Hotel Facilities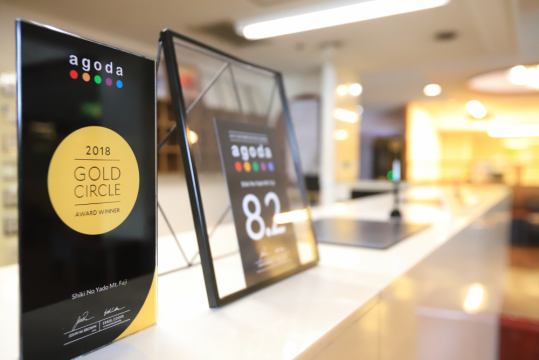 Shiki no Yado Fujisan Main Facility Facilities
Top floor observation room

Enjoy a 270-degree panorama of Fujisan and Lake Kawaguchiko the 5th floor of the hotel.

Opening hours
Sunset from 15:00
Sunrise-10:00

Rental cycle

About 2 hours around Kawaguchiko Lake Shore bicycle(18 kg)

『Ordinary bicycle]
500 yen for 1 hour / 1,500 yen for 3 hours or more per day

『Bicycle with electric assist]
600 yen for 1 hour, 1,500 yen for 3 hours, 2,600 yen for 1 day

Other,Electric assisted bicycle with child seat, cross bike,
Bicycles for children are also available.

Business hours 9:00 to 18:00

Electric kickboard that can be run on public roads!

Usage fee

30 minutes 1,000 yen
1 hour 1,500 yen
2 hours 2,000 yen
3 hours 3,000 yen

※A motorbike license or higher is required.Be sure to wear a helmet and follow the traffic rules of your motorbike license.

Business hours 9:00 to 18:00

lobby

Please check in at the front desk upon arrival.

Check-in is possible from 15:00 to 23:00.

Table tennis

Usage fee
One 30 minutes 300 yen
One unit 500 yen for 1 hour

From 7:00 to 9:00
From 15:00 to 21:00(22:00 end)

Seminar Room

Maximum capacity 100 people in each room! We have 3 rooms for seminar rooms in total!

It is a seminar room that can be used for multi purpose purposes.
1 room each on the 2nd to 4th floor, each room has chairs and tables up to 60 people
Only chairs up to 100 people
Maximum of about 24 to 30 people can be divided into chairs only
It can be used by about 40 to 50 people.
Please use it for training, seminars, training camps or compa -

You can also use it as a comparison venue (it is necessary to book ※)

Room division possible
Depending on the floor, it is possible to divide each room, please contact us in advance

About furniture
Whiteboards and markers are free to rent, but if you want to use them, please let us know in advance.
※Other, projectors and others are charged

Seminar room usage fee
1 venue:4 hours 4,000 yen / 8 hours 7,000 yen  Extension:¥ 1,000 per hour

bus stop

The bus stop in front of the hotel is the Kawaguchiko tour bus No.5 "Kawaguchiko Herbkan".

Kawaguchiko tour bus(Red line)
And runs from Kawaguchiko Station, is a very convenient bus around the tourist facilities, such as "~ ~ Lake Kawaguchiko Fujisan panorama ropeway", Kawaguchiko Museum of Art, Lake Kawaguchiko music and Mori Art Museum", "Natural Living Center".Lake Kawaguchiko hot spring town is located in the eastern part of Lake Kawaguchiko, and museums and cafes are gathered on the north side of the lake, attracting many tourists.

Multifunctional (multipurpose) toilet

It is a multifunctional toilet for guests newly established on the 1st floor.

In addition to the size and handrails that are easy for wheelchair users to use, by providing ostomate-compatible equipment, diaper changing seats, baby chairs, etc., not only wheelchair users but also elderly people, people with internal disabilities, small children It can be used by a wide variety of people, including passengers.

Smoking is prohibited inside this facility.

The smoking area is next to the front entrance.
Number of rooms

29 rooms in total:Western-style room 6 rooms / Japanese + Western room 29 rooms
Western-style breakdown:6 twin rooms(12 to 20 m²)

Room supplement

Japanese + Western room will be twin beds in all rooms + 18 square meters in tatami room.Approximately 40 m².

Standard room facilities

All rooms bath toilet / all rooms shower / all rooms Air conditioning / Television / Empty refrigerator

Internet related

All rooms available
[Connection method]Wireless LAN
[PC rental]No
[Internet connection]Free

Amenities

Hand towel/Toothbrush and toothpaste/bath towel/tabi/Cotton set/Body towel/Shaving/hairbrush/shampoo/Body soap/yukata/Hairdryer

Facility content

Table tennis(Toll) / non-smoking room

Service & Leisure (including arrangement)

Massage(Toll) / Fishing(Toll) / Bicycle for rent(Toll) Shogi(Toll) / Go(Toll) / Gymnasium(Toll) / ground(Toll) / Tennis(Toll)

Credit cards available locally

JCB / Visa / Master / AMEX / SAISON

Standard check-in time

15:00

Standard checkout time

10:00

Supplement for amenity

Every room equipped with air purifier with humidifying function.
Japanese + Western-style room with shower toilet.


Onsen tax

Hotspring tax adults 150 yen (child free (0 years old to 11 years old)) separately.

Cancellation provisions

7 days ago - 4 days ago:20% of the room charge
3 days ago ~ 2 days ago:30% of room charge
1 day ago:50% of the room charge
On the day of arrival:80% of the room charge
Cancellation without any contact:100% of the accommodation fee
※Reservation cancellation 7 days in advance will be 10% of the room charge.
※If there is a cancellation rule setting for each accommodation plan, that will be given priority.
Hot Springs

Fujikawaguchiko Onsen Village

Number of baths

"Outdoor bath] Man: 0 Female: 0 Mixed Bath: 0
[Inner bath] Man: 1 Female: 1 Mixed Bath: 0
[sauna] Man: 1 Female: 1 Mixed Bath: 0

Other bath facilities

sauna

Bath Terms of Use

The public bath can be used from 15:00 to 24:00 and from 5:00 to 9:30 the next morning.
Sauna is available from 15 o'clock to 23 o'clock.